Out with a bang!
We closed 2022 with the 31st Meeting of the HPH General Assembly. Highlights include the election of three new Governance Board members (who we'll introduce soon), a presentation from Dr. Ming-Nan Lin of our Task Force on HPH and Environment, three inspiring presentations of best practice from Gabriella Szörényiné Ványi from the Somogy Country Moritz Kaposi Teaching Hospital in Hungary, Daniela Rojatz from the Austrian National Public Health Institute, and from Giulio Fornero of the HPH Network in Piemonte, Italy.
The HPH eCommunity platform was unveiled, which will provide our members with the opportunity to view and exchange best practice examples, articles, and tools related to implementing the 2020 Standards for Health Promoting Hospitals & Health Services.
The meeting closed with an official announcement of the location for the 29th International Conference on Health Promoting Hospitals & Health Services in Vienna, Austria in 2023! The hybrid format conference will be held from 20 -22 September 2023- save the date! More information can be found on the conference website, here.
We would like to thank Heli Hätönen (Finland), Cristina Iniesta-Blasco (Catalonia, Spain), and Nicholas Bonnet (France) for their service as Governance Board members and for contributing their expertise towards the development of the International HPH Network.
The full General Assembly meeting report as well as other important documents can be found in the HPH Library.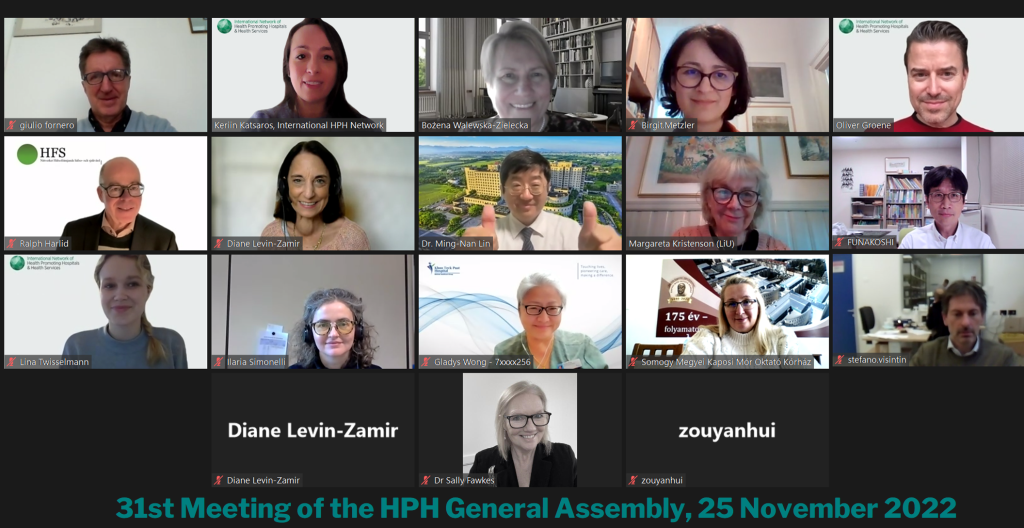 Pictured L-R from top: Giulio Fornero (Italy), Keriin Katsaros (Germany/International HPH Secretariat), Bożena Walewska-Zielecka (Poland), Birgit Metzler Austria/ International Conference Secretariat), Oliver Groene (Germany/International HPH Secretariat), Ralph Harlid (Sweden), Diane Levin-Zamir (Israel), Ming-Nan Lin (Taiwan), Margareta Kristenson (Sweden), Mitsuhiko Funakoshi (Japan), Lina Twisselmann (Germany/International HPH Secretariat), Ilaria Simonelli (Italy), Gladys Wong (Singapore), Gabriella Szörényiné Ványi (Hungary), Stefano Visintin (Italy), Sally Fawkes (Australia)