IHF 46th World Hospital Congress
Register now for the 46th World Hospital Congress in Lisbon!
The World Hospital Congress of the International Hospital Federation (IHF) dates back to 1929, when it was first held in Atlantic City, USA as a biennial event. Since 2015 it has been held annually across the globe.
The Congress is a unique global forum connecting leaders and decision-makers of hospitals, health services and healthcare organizations to:
share knowledge and good practices in leadership, management and service delivery
exchange new ideas and innovations
network with other senior executives from across the international healthcare community.
IHF member organizations have various opportunities to showcase their accomplishments throughout Congress. The delegate makeup reflects the IHF membership which spans more than 60 countries. It is a one-stop shop for those seeking the opportunity and environment in which to engage in a 360-degree learning and networking experience with global peers.
Register here: World Hospital Congress 2023
29th International HPH-Conference (20. – 22. September): Registration open!
We are pleased to inform you that the early bird registration for the 29th International Conference on Health Promoting Hospital and Health Services (HPH) has been extended to Monday, July 31, 2023!
Don't miss out on your discount—take swift action now! In addition, HPH Members can enjoy exclusive discounts as well: https://www.hphconferences.org/vienna2023/registration/
Registration for online participation is fully open and accessible to all. Registration for in-person participation requires an access code assigned by the International Conference Secretariat based on the pre-registration. If you have been selected for in-person registration, you will have received an e-mail with your access code. Should vacancies arise, upgrading an online registration to an in-person one is possible. If you wish to be added to the waiting list for in-person spots, please e-mail conference-secretariat@hphconferences.org.
For more information about registration fees and the link to the registration form, please visit: https://www.hphconferences.org/vienna2023/registration/
Registration open: CleanMed Europe 2023
Europe's leading conference on sustainable healthcare brings together healthcare leaders and champions of sustainability from across the region and beyond to share ideas, innovations, challenges, and solutions for sustainability in European healthcare. www.cleanmedeurope.org
The conference showcases cutting-edge practices in sustainable healthcare and is the ideal venue for healthcare innovators to network and share ideas, finding new ways to drive change within their organisations and communities. The virtual conference will be made up of informative presentations, informative workshops, and plenty of exciting opportunities for networking and engagement.
The theme of this year's online conference is Changing the climate of healthcare.We invite you to join us as we bring together a truly unique range of innovative speakers and participants to share ideas and best practice, co-create solutions, and empower individuals and teams to accelerate the transition to sustainable healthcare in Europe.
HPH Conference pre-registration extended until March 31st!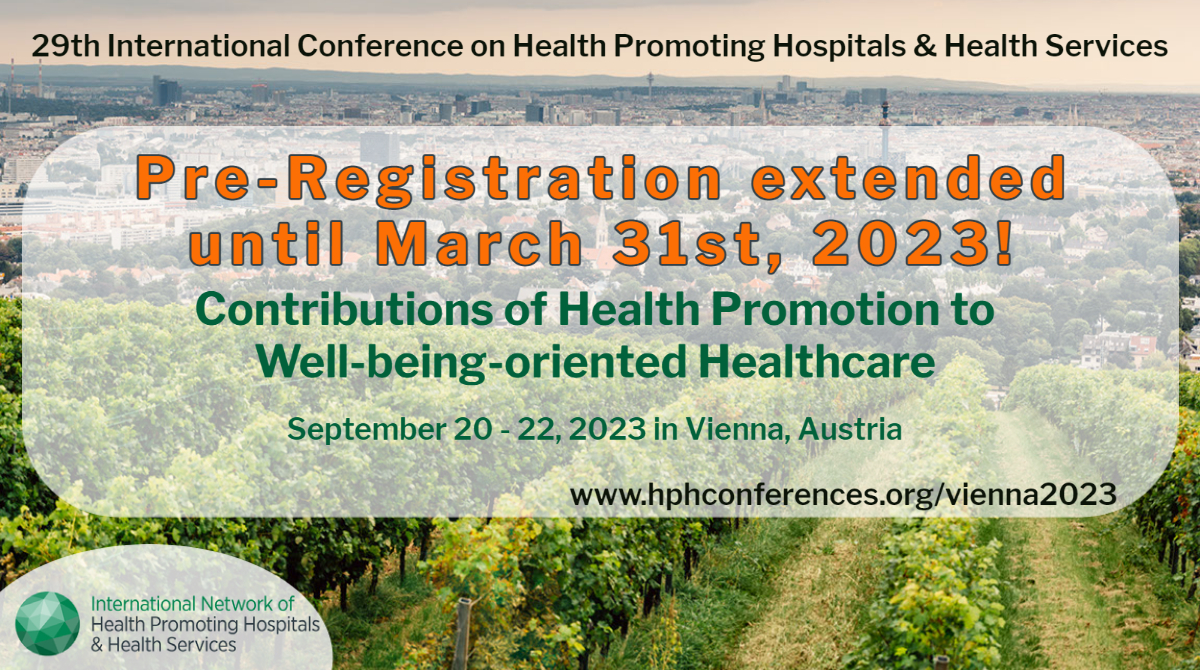 The pre-registration period for the 29th International Conference on Health Promoting Hospital and Health Services (HPH) has been extended to Friday, March 31, 2023. Act quickly to ensure your in-person participation.
This year's conference will be organized in a hybrid format, with the option to register for participation in-person or online. With a short survey, we would like to ask you to register your interest in attending the conference. This information will give us opportunity to tailor the event accordingly. For more information, visit the conference website at https://www.hphconferences.org/vienna2023/registration/ or go directly to the pre-registration survey at https://survey.goeg.at/index.php/933674?lang=en.
Register now! Webinar: Children without borders: Promoting children's health in all settings
Call for Abstracts open! 29th International HPH Conference
We are happy to announce that the abstract submission for the 29th International Conference on Health Promoting Hospitals and Health Services (HPH) is now open!
As the main event of the International HPH Network, the conference connects HPH members, health professionals, consultants, researchers, academics, and policy makers from around the world. This year it takes place as a hybrid event in Vienna, Austria, from September 20-22, 2023, co-hosted by the Austrian HPH Network, the Austrian Federal Ministry of Health, and the Austrian National Public Health Institute. The conference theme is dedicated to "Contributions of health promotion to well-being-oriented healthcare".
We invite and encourage you to submit an abstract to be considered for inclusion in the program. Submission will be open until March 19, 2023.
Apply today – European Sustainable Healthcare Project of the Year
The European Sustainable Healthcare Project of the Year is an exciting new award that celebrates the sustainability efforts of healthcare organisations across the WHO Europe region. This new initiative from Health Care Without Harm Europe recognises sustainability projects that make a real difference in reducing the environmental impact of healthcare activities in Europe. Share your groundbreaking work with the world and help move the sustainable healthcare movement forward – apply by 31 March. The European Sustainbale Healthcare Project of the Year is open to current or candidate members of our Global Green and Healthy Hospitals network – not yet a member of GGHH? Register your interest in free membership as part of your application.
HPH at 15th European Public Health Conference
We will be attending the 15th European Public Health Conference, from 9 -12 November in Berlin, Germany. This year's conference, "Strengthening health systems: improving population health and being prepared for the unexpected" will bring together public health professionals from across Europe to discuss issues such as planetary health, climate change, environmental degradation, water and food security, migration, gender, and poverty.
Let us know if you'll be there- we would love to chat!