Save the Date: The 29th International HPH Conference
https://www.hphconferences.org/riva2022/
Cancellation of the 29th International HPH Conference
After two years of being hindered by the pandemic, we were excited to celebrate an in-person International Conference on Health Promoting Hospitals and Health Services (HPH) this year once again. However, after careful consideration with the Italian host and the International Conference Secretariat, the HPH Governance Board has decided to cancel the event planned for October 2022 in Riva del Garda.
This is very regrettable for all of us. But the lack of planning security due to the Covid-19 pandemic and the war in Ukraine finally led us to this decision. We would like to express our sincere gratitude to our Italian partner who worked very hard until the end to find a viable solution under the given circumstances.
We are dedicated to putting on the 29th International HPH Conference in 2023 and are currently discussing how to make that happen. The next General Assembly meeting is planned for June 1st, 2022, and we will be taking steps to organize and online meeting of HPH Coordinators in October. Stay tuned and connected!
With kind regards,
Prof. Dr. Bożena Walewska-Zielecka
On behalf of the Governance Board of the International HPH Network
29th HPH GA Meeting- Regsiter now!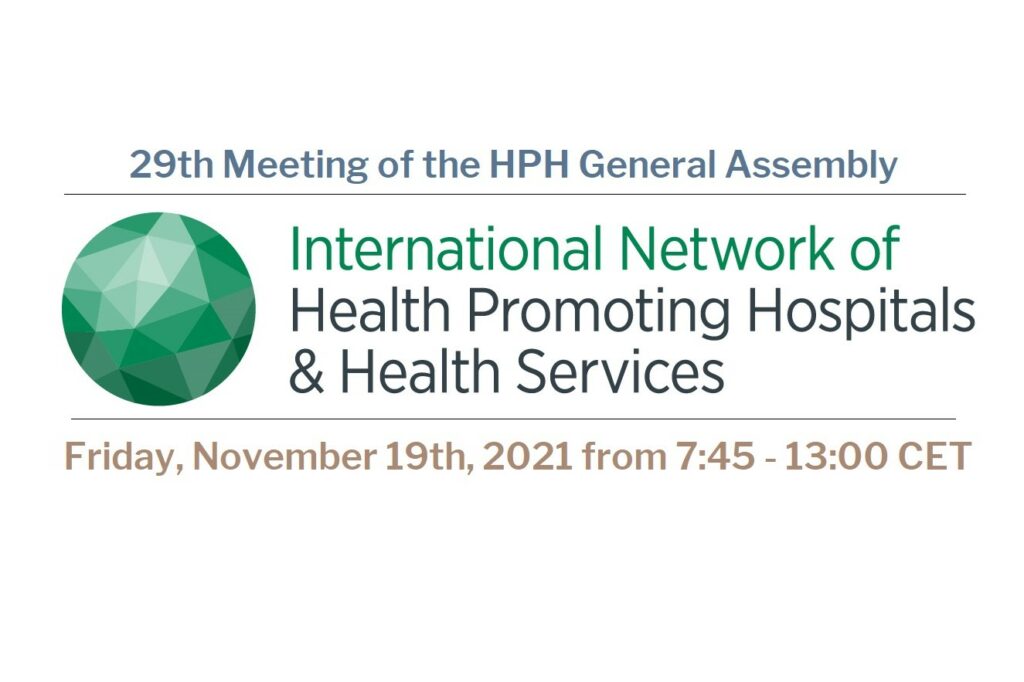 Registration is now open for the 29th Meeting of the HPH General Assembly on Friday, November 19th, 2021 from 7:45 – 13:00 (CET). This is a closed event for HPH Corporate members (HPH Network Coordinators), single members, Governance Board members, Task Force/Working Group leaders, and other authorized individuals.
The meeting will take place on Zoom- registration is required!
https://zoom.us/meeting/register/tJMkdOCpqD0iGtHTDlcbr1J0mdSMjfg0OjUl
Once your registration is approved, you will receive a finalized agenda closer to the meeting date. We look forward to seeing you there!
If you have any questions regarding registration, please contact the International HPH Secretariat at info@hphnet.org
IHF 44th World Hospital Congress
Register now for the 44th World Hospital Congress in Barcelona!
The 44th World Hospital Congress of the International Hospital Federation will be held at the Fira Montjuïc in Barcelona on 8th-11th November as a hybrid event: mixing in-person and virtual program elements. This will be one of the first health management and leadership events to take place in-person in Europe since the COVID-19 outbreak. The Congress is hosted by La Unió Catalana d'Hospitals (Catalan Hospital, Health and Social Services Association) with the overarching theme "People on board: Transforming healthcare by blending agility, responsiveness, and resilience"
The Congress is a unique global forum that brings together IHF Members, leaders, and decision-makers of hospitals, health services, and healthcare organizations to discuss key drivers of national and international policy, management, financial trends, and solutions. Through this forum multidisciplinary exchange of knowledge, expertise and experiences are facilitated, together with dialogue on best practices in leadership, management, and service delivery.
In-person and virtual tickets are available. Secure your slot by registering online here. IHF Members are entitled to special discounted rates. Contact congress@ihf-fih to get your member discount code.
Early bird registration closes on 31 July. Don't miss this amazing opportunity to learn from some of the best in the industry, discover innovations from other countries, and broaden your network!
2021 Global Health and Welfare Forum in Taiwan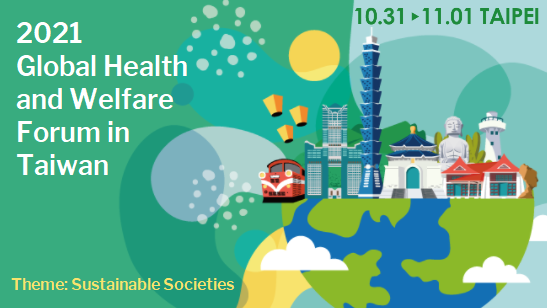 The Health Promotion Administration of Taiwan would like to cordially invite you and your colleagues to attend the Global Health and Welfare Forum in Taiwan on October 31st – November 1st, 2021. The forum is an annual event, organized jointly by the Ministry of Foreign Affairs, Ministry of Health and Welfare and the Health Promotion Administration, which convenes leaders from the worlds of research, policy, and practice to share ideas and experiences that address the greatest health and social welfare challenges that beset our world.
As the global COVID-19 pandemic extends into its second year, many around the world are still coping with the threats of the pandemic. Yet there have been numerous efforts and preparation underway to build back a more resilient and better society. To emphasize the significance of social and welfare issues, the Global Health Forum in Taiwan has been renamed to the Global Health and Welfare Forum in Taiwan, building upon the theme of "Sustainable Society" and exploring the dimensions that constitute a sustainable society, focusing not only the health and well-being of individuals but also the society as a whole, with emphasis on the policies, governance and actions required to achieve this goal.
The Forum of 2021 will feature short and long-term pandemic impacts on health services, and society and sustainable development; along with enriching and engaging discussion on a wide variety topics such as precision pandemic control, precision health, holistic care, health and social care workforce, healthy aging and sustainability, mental health, child exploitation, climate change and children's health, universal health coverage and reform, poverty, and the impacts of the pandemic on social welfare.
This year's event will be held in a hybrid format, featuring in-person (Taiwan only) and virtual participation across the world. Registration is free and open to anyone interested. For information about the forum, program and registration, please visit: https://www.ghwftw.org/home
Save the Date! 28th International Conference on HPH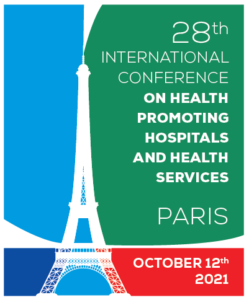 The 28th International Conference on Health Promoting Hospitals and Health Services will take place virtually from Paris, France on:
October 12, 2021
This year's conference theme the Development of Health-Oriented Health Care Management Systems will provide an opportunity to share and exchange information about global experiences and practice.
In two plenary sessions, renowned international experts will address the main theme of the conference. In addition, the conference will offer a rich parallel program including oral presentations and posters on the main theme and other topics relevant to HPH.After the live session on October 12th, participants will have the ability to watch and stream all presenations and sessions as well as posters for 15 days afterwards.
To keep up-to-date on the call for abstracts, final conference program, plenary sessions and more please follow the conference website: https://www.hphconferences.org/paris2021
28th International Conference on Health Promotion in Hospitals and Health Services
Conference
The International Conference on Health Promoting Hospitals and Health Services (HPH) is the main event of the international HPH network. It is a forum of learning and exchange on health promotion in and by health services for health practitioners, consultants, scientists and politicians, with an average of 500 delegates each year. This year's conference will be held live from Paris, France.
Date
October 12th, 2021
More Information
Click the banner above or visit https://www.hphconferences.org/paris2021/about/?L=0 to learn about registration and see the full conference program.
28th HPH General Assembly- Registration open!
Who is eligible?
HPH Corporate members, National and Regional Coordinators, Task Force Leaders, and single HPH Members can now register for the 28th Meeting of the HPH General Assembly. 
What's on the program?
The next steps for developing complementary self- assement forms with measureable elements for the 2020 HPH Standards
Updates from our Task Force leaders
HPH Constitution update
Report from the Governance Board
and more!
How do I register?
Click here or copy this link into any browser: https://www.hphnet.org/28th-hph-general-assembly/
Registration closes on May 27th at 12:00 (CET)
Questions?
Please email the International Secretariat: info@hphnet.org
Webinar on the new HPH Standards!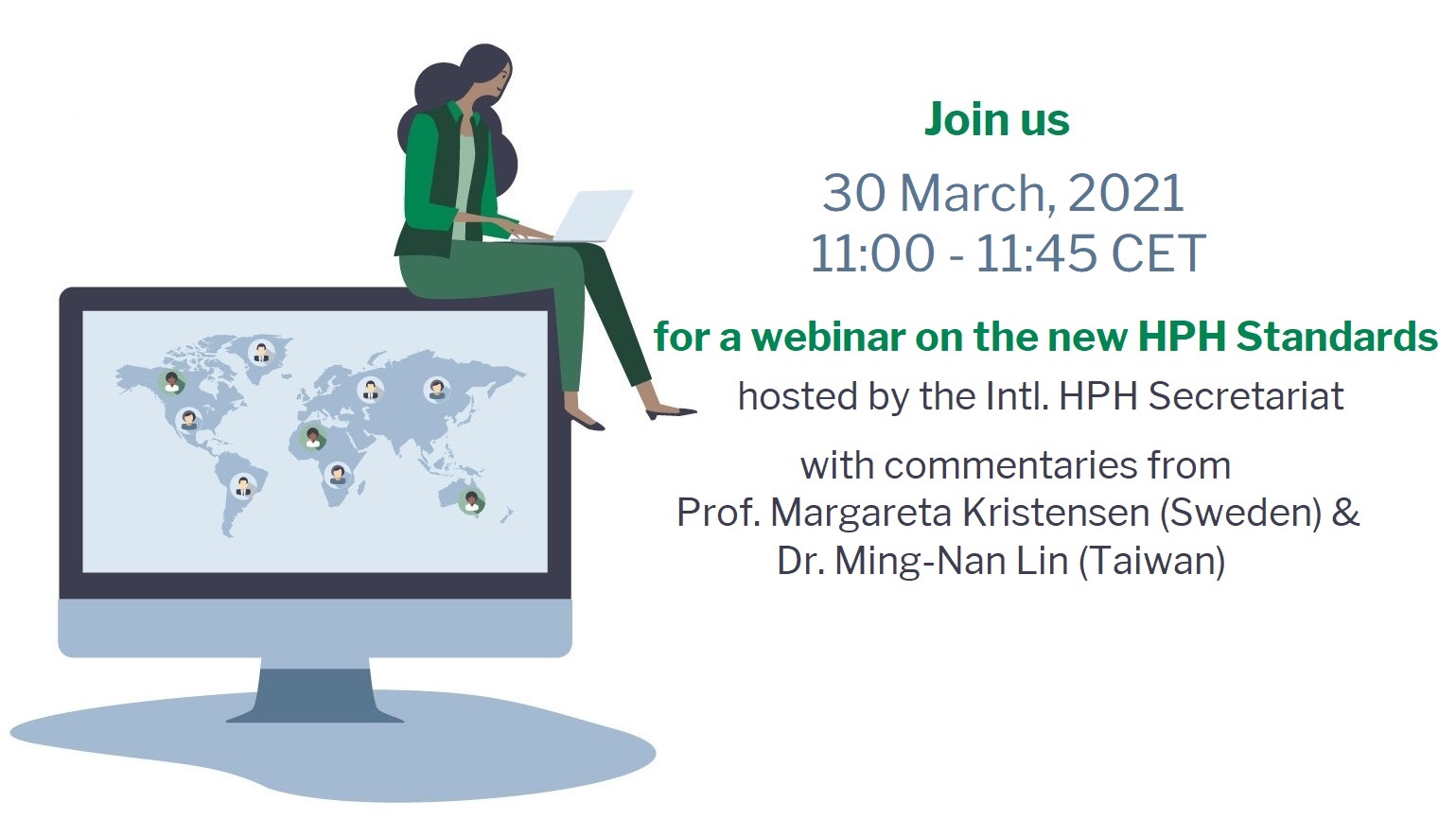 More information and registration information can be found here: https://www.hphnet.org/webinar-hph-standards/ 
Webinar: Catalan HPH Network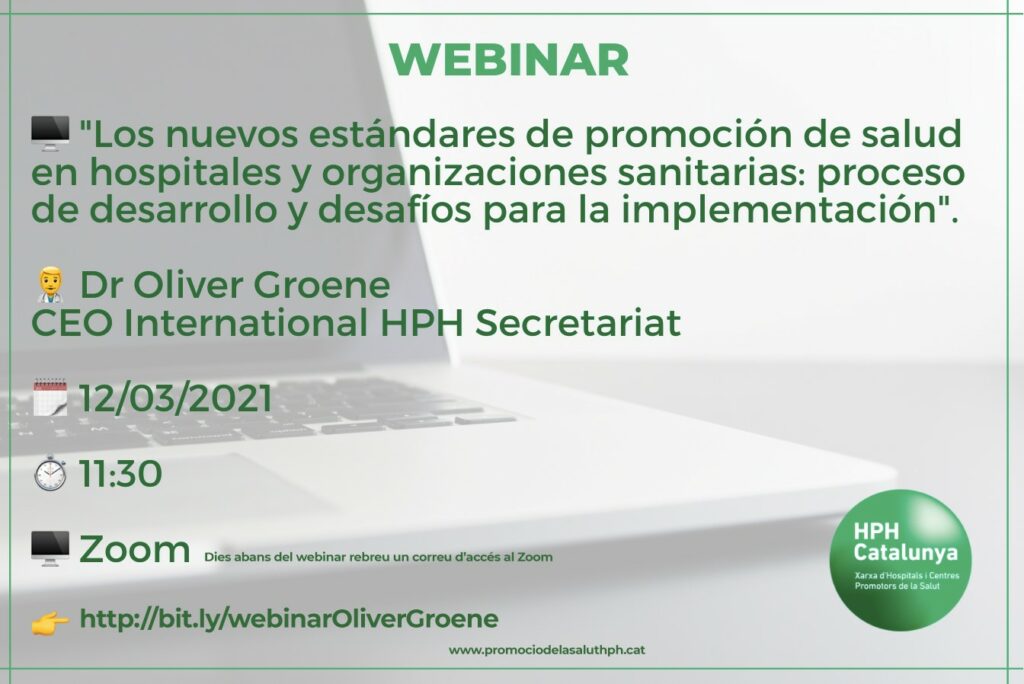 The Catalan HPH Network invites you to a webinar on the new Standards for Health Promoting Hospitals and Health Services, featuring a presentation from Dr. Oliver Groene of the International HPH Secretariat on
12 March, 2021, 11:30 CEST/GMT+1
*Please note: this event will be held in Spanish